Portland House @ Portland Roads, Iron Range, Cape York, Australia
Portland House is located at Portland Roads, a tiny community that borders the internationally recognised Iron Range National Park located on the east coast of Cape York Peninsular and is approximately 800km north of Cairns. Portland House overlooks the shoreline of a beautiful bay edging the tropical Coral Sea where small boats anchor overnight while travelling the coastline.
Historically Portland Roads is famous for a long wooden jetty jutting out into the sea from 'the point'. The jetty played a major role in developing the Cape and was a main access point before the Peninsular Development Road (PDR) became a viable access in the 1960's. The jetty was built for a local Gold Rush and then soon after, played a vital role in landing equipment and fuel for three hastily built US airfields in Iron Range during WW2. Unfortunately this jetty is no longer standing.
Getting here from Cairns
Portland House is in a remote wilderness area of Cape York Peninsula, Australia.
By Road – Access from Cairns is limited to the dry season only. We recommend a 4WD for the journey as about 300kms is on gravelled road surfaces that can, in places, be very rough and severely corrugated. The drive into Iron Range from the Peninsular Development Road is spectacular, taking you through a variety of landscapes, and across the Wenlock and Pascoe Rivers. After taking in the view from Mt Tozer lookout, you descend into Australia's largest lowland tropical rainforest. Your adventure at Iron Range begins.
Buy our Fly/Drive package - Our customised Fly/Drive packages are an ideal way to visit Iron Range during the wet season, or for those who don't have the time to make the journey from Cairns. Yours hosts, Greg and Sheree will greet you at Lockhart River airport when you arrive.
Packages include:
As your local Skytrans agents for Iron Range, we ensure the best possible rates for your tailored travel package.
---
Travelling in the wet season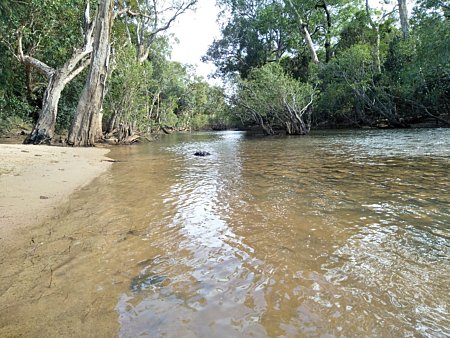 While the wet seasons vary from year to year, the Peninsular Development Road and other main access roads on the Cape are generally closed from late December to early May (Local residents exempted). Enquire about road conditions on the Cape before commencing your journey, and never drive through flooded roadways or creeks!
Portland Roads and Iron Range take on a tropical paradise fantasy as the wet commences in January. This is an ideal time to enjoy the beginning of the monsoon season with a Portland House Fly/Drive Package ex-Cairns. Fortunately the roads between Portland Roads, Chili Beach, Iron Range National Park, Lockhart River and the Airport are open almost all year round. However, during torrential rain the low level Chili Creek road crossing may be impassable for a few hours until high tide drop back.